AgriNet HerdApp, less cost, more power
Less Cost. Agrinet HerdApp pricing starts at only 60 Euro including VAT per year for herds of 60 animals or less. Pricing stops at €300 per year including VAT no matter how big the herd is. Have a look at these annual cost comparisons versus a competitor (21/12/2020)
60 animal dairy herd
Agrinet HerdApp €60 Competitor €506
250 animal dairy herd
Agrinet HerdApp €250 Competitor €578
60 animal suckler herd
Agrinet HerdApp €60 Competitor €385
Note: All Agrinet HerdApp farmers get the same level of functions and service.
More Power. Agrinet HerdApp has a primary sync on ICBF so you will start off with more data. We all know that compliance is needed and HerdApp does this very well. But HerdApp also has a range of powerful and useful functions not available in other apps.
More actions lists in the Jobs area
Stock analysis reporting
Calving pattern reports with drill down for each week
Fertility analysis
Select animals with a variety of health and production problems
Selective dry cow therapy is done in great detail
Farm diary
Great ability to drill down from one report to another, and animal to animal
Extensive reporting on milk recording for dairy farmers
Imports milk data from your dairy company
Heifer weight targets
Considering moving over to Agrinet HerdApp but not sure about how to move your data? No problem. It's simple. All of your ICBF and Agfood data will automatically download on to HerdApp when you connect your herd.
As for your drug remedies, purchases and feed all you have to do is simply download that data into a CSV file and keep it on hand for the inspector.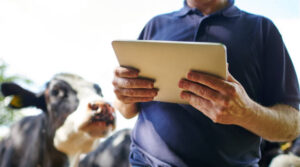 Still not sure? Contact the support team and we will help you make the move in minutes! Learn about making the move to Agrinet HerdApp here.
 See our pricing page here.