Order missing tags directly from the HerdApp on your phone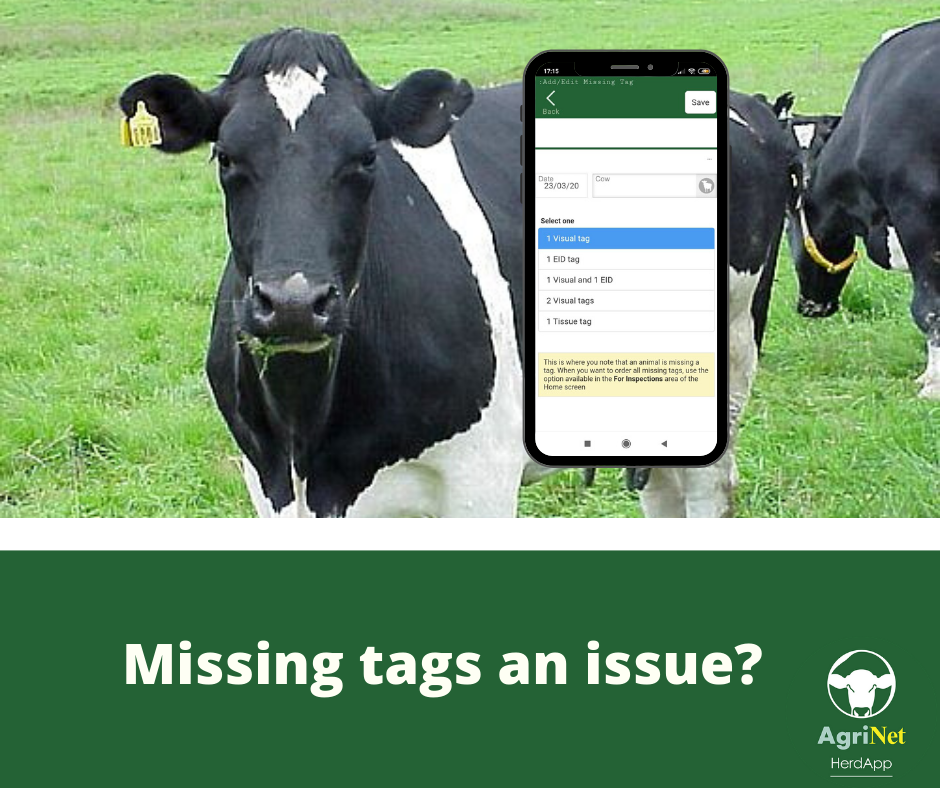 Whether it be in the shed or down the field or on the out farm don't get caught out with stock missing tags, before a Bord Bia inspection! Quite often you see an animal missing a tag & think to yourself I must write that down when I get back to the house or maybe you have a scrap of paper where you scribble the number on and then never see it again.
With AgriNet HerdApp farm app 'The PA in your pocket' you won't have that issue. If you see an animal missing a tag, take out your phone, open your AgriNet HerdApp, type in the animals number in animal search then save.
It is always easiest to record the issue when you see it. You will gradually build up a list of missing tags which you can order at your convenience.
AgriNet Herd app gives the option of ordering the tags from all three approved cattle tag providers in Ireland, Cormac Tagging, Datamars Agri and Mullinahone Co-Op and allows app users to record and order missing tags directly from the farm app on their phone.
All the farmer has to do is select the missing tag numbers and place the order with their tag company of choice through the HerdApp.

Head to the for inspections icon and 'Order missing tags'. Here you will see the list you have built up you can send your missing tag order in to whichever company is your tag supplier.
When you place order you will automatically receive a copy of the order in your e-mails. Then the tag company can process your order & take payment, tags will then arrive in the post. Then all that remains is to put the correct tag into the relevant animal.
AgriNet assisting Irish farmers manage herds for almost 30 years  AgriNet HerdApp is the new standard in farm herd management designed to link your herd directly to ICBF and Agfood from your smartphone. It's all about speed and simplicity and getting all the basics done quickly while outside. AgriNet Herd App is owned by Irish Farm Computers Ltd, based in Co. Meath who own AgriNet Herd Master the PC version of the herd management software. AgriNet have been catering to farmers herd management needs for the last 26 years. AgriNet have built up a quality team of customer support and sales staff along with a loyal customer base. Farmers can be reassured that HerdApp is tried, tested & trustworthy.
Find out more about AgriNet HerdApp