AgriNet HerdApp is for Irish Dairy, Beef and Sheep farmers.
Herd Compliance
Calf Registration, Movements, Drug Records, Bord Bia Inspections
Easy, instantly, from the shed. Scan tags or just enter check digit. Sires suggested from AI records. Pedigree name suggestions.
Breeding
Get organised instantly with Due-to breed, repeat, calve. Breeding performance reports.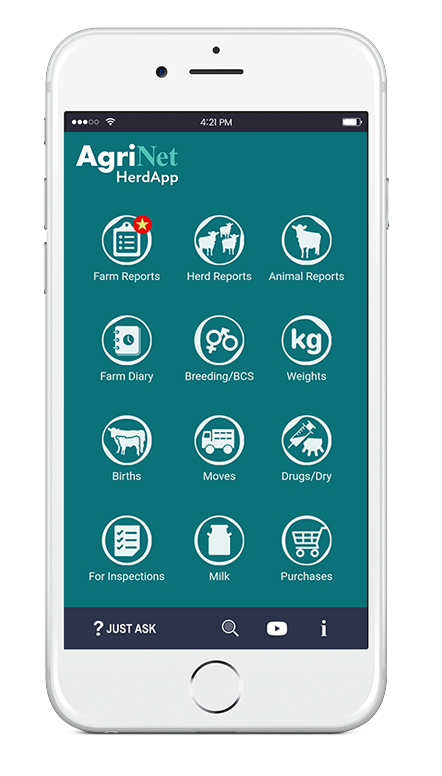 Management
Due-to reports keep you organised instantly. What needs to get done today? HerdApp tells you automatically.
Dry Cow
Intelligent selective dry cow report. All your cows milk recording data is visible to help you make these dry off decisions.
Colloborate with the team
Everyone working on the farm can have HerdApp on their phone. It's included in the price.
Intuitive Dates
Never think about taking notes again. HerdApp will automatically suggest important 'due-to' dates for you.
Paperless movements
With HerdApp at your fingertips, there's no office work in the evenings.
Successful Organisation
Designed by farmer's for convenient recording of your daily farming activities. Everything's organized and accounted for, so you can maximise the potential of your herd.
HerdApp does the business for your business with AgriNets experience and farm knowledge.
25 Years Experience
We have been working with farmers since early PC days. We have learned and grown with the best farmers and evolved to meet their needs.
Helping Farmers
We have been at the forefront of farm software from the start, especially accurate reports that deliver real value and reduce time spent on record keeping.
First Class Support
Ask anyone! AgriNet support is the best there is.
Proud Employees
Whoever you speak to from AgriNet you are talking to someone with experience who cares about you.
"HerdApp is great when we are at our busiest that we have access to everything we might need. It is also good the way all 4 of us have easy access and can add in events when we are on the move."
"It is hard to believe how much farming is done with technology today! HerdApp compliments it all, it's a diary, herd book and record keeper all in one. The days of the biscuit tin to keep everything safe is gone."
"HerdApp is very straight forward to use. It makes registering calves easy to do along with moving them and keeping records of what is going on on the farm. It also helps when we are scanning some of the cows we can look up the cow and see if she had issues at calving."
"HerdApp has been a great addition to the farm. We try to make things work efficiently so we can focus on all aspects of our business. HerdApp means each of us have access to all the records whenever we need them."
"We have seen an improvement in our compact calving and accuracy when deciding if a cow is due to repeat or is an irregular repeat. More cows are going in calf at the right time."
"Information is worth so much when your farming. It's hard to remember everything, I know I certainly can't so I have to arm myself with tools to help me stay on top of everything and AgriNet HerdApp does that. I think every farmer should use it."
"I find AgriNet HerdApp brilliant. Great support service."
"I would recommend AgriNet HerdApp to any farmer that wants a time-saving and organized approach to managing their herd."
"The continuous development of new technology is playing a huge part in making farms more efficient and appealing to workers"
"HerdApp has so many benefits; an easy layout which is simple to use and get used to and all the information you would ever need in your back pocket!"
"Great app and great service and support from the team!"
"The staff are so helpful when you ring."
"The helpline is brilliant! Great to have help and support when I need it. You have to think like a farmer to help a farmer."
Renowned Excellent Support Team
Our support team go above and beyond to ensure you are using the application to its full capacity and solving any hurdles you may face.
Experienced Support Team
Our support staff have been helping farmers for many years. They know the issues you face and how to solve them.
DISCUSSION GROUPS
Now that we're all familiar with zoom, request a group session on HerdApp anytime. We can show the app benefits and tips.
Telephone & Online Support
Whatever your issue, we are here to help. A quick question? Help with compliance? It's no problem.
Unlimited Training & Support
We are here for the long term. We want to help you farm better with HerdApp.
Call our team today to discuss getting HerdApp
Download and start using AgriNet HerdApp today!

Irish Farm Computers Ltd
3 Church Street
Kells
Co Meath
Ireland
A82 E974
046 924 9964 – 9am to 5:30pm
046 924 5118 – 9am to 5:30pm