Every year Agrinet registers 100's of thousands of calves from the Agrinet HerdApp phone app.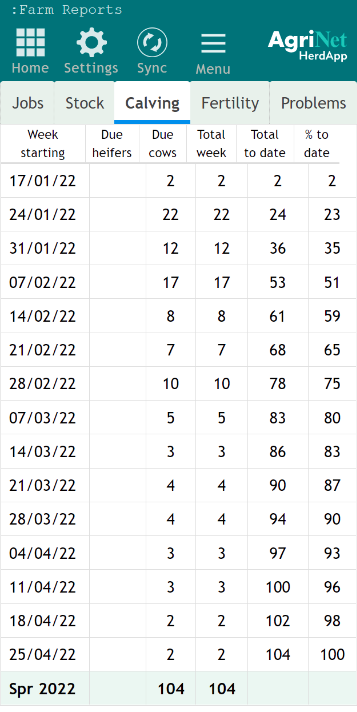 In Agrinet, we know how busy the calving season is, and how important it is to get the calves tagged, recorded, and registered from the calving box.
But before the first calf hits the ground, it helps a lot to know when the calves are going to be born. The Calving report in Agrinet HerdApp shows the calves due to calve for each week in 2022.
From this demo farm shown in picture 1, we know the first 2 calves will arrive in the week starting 17 January and 75% of the cows will be calved at the end of the week starting 28 of February.
This report shown on the Herdapp helps farmers to plan the calving season ahead effectively.
A farmer can drill down on any number to see the list of cows due to calve in that week.
Registering Of Calves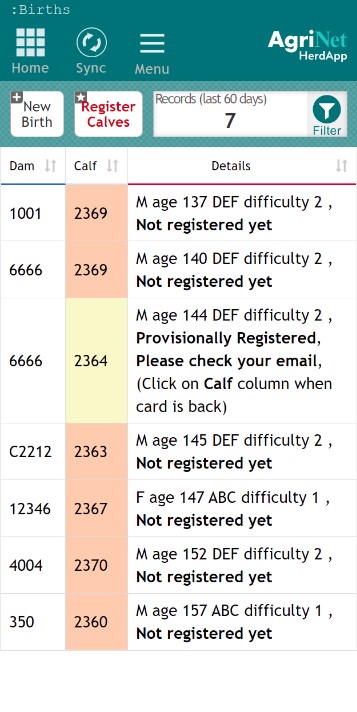 When the calving starts this is the Births screen where all the calves are tracked and registered.
All calves born to date are listed in this screen. In here, you can track when a card comes back in the post, which is the end goal for each registration.
A farmer adds a new calf by clicking New Birth and they register calves using Register Calves. It's as simple as that.
You may prefer to use New Birth for all calves in the yard, and use Register Calves when you are back in the wifi in the house. Or you can use Register Calves from the calving box, whatever suits your situation best.
Just getting it all work completed quickly on your phone is the key. Getting all the cows calved quickly also sets up the herd for the breeding season. HerdApp has a great system to track heats and serves, which helps create a nice calving pattern for the following year.